Meet Dr. David Fonke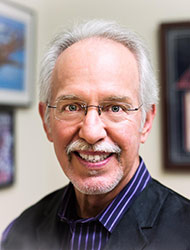 Dr. David always had a long-standing interest in the God-given potentials of the human body. He explored these potentials through various sports, beginning with Little League baseball and continuing through today. While he didn't consider himself a star athlete, Dr. David liked to use his abilities to participate in many activities. Given his passion for physical performance he attained a degree in Health and Physical Education.
First, a Career in Fitness
Though Dr. David was qualified to teach, he wanted to learn more about physical fitness, performance, and the resulting health benefits. He decided to invest in a local fitness center, The Nautilus Fitness Center. While there, he applied exercise and physical conditioning protocols to help attain specific goals.
This was in the late 1970s and early 1980s. "I applied the principles and techniques to my fitness goals and those of our clients." Dr. David's interest progressed into bodybuilding. He competed in some local and regional competitions and was awarded a few trophies.
His fitness center offered martial arts, kickboxing, and Tae Kwon Do. While the offerings represented a new focus for physical development, they also provided an expanded opportunity to address physical injuries.
An Introduction to Chiropractic
One day, as Dr. David was limping through a workout, someone suggested he see a local chiropractor. "This was in the late 80s. It was my first introduction to chiropractic care." Dr. David wondered why he didn't check out chiropractic sooner. It was a vague type of personal referral that launched his chiropractic journey.
Obtaining a Chiropractic Education
Dr. David and his brother Dr. Jerry started to receive chiropractic care from Dr. Jeff Baldwin. "We experienced immediate improvement and change in our function." Dr. David's positive experience prompted him to begin to gather information about chiropractic colleges.
Dr. Baldwin graduated from Life College of Chiropractic in Marietta, Georgia. Dr. David and his brother toured the campus. "Jerry graduated in 1991. I graduated in December 1998."
The brothers were taught the science, philosophy, and art of chiropractic throughout the 4-year curriculum. Dr. David enjoyed learning every aspect of science including
Anatomy
Physiology
Biochemistry
Physics
Nutrition
Radiology
Neurology
Spinal neurology
Dr. David also learned examination and diagnostic techniques and chiropractic adjusting techniques.
He went on to finish his in-house residency in the student clinic. "There, we learned to examine and adjust fellow students." Dr. David then served at the outpatient clinic, where members of the local community were invited to be patients. "The philosophy of chiropractic is where I discovered my life assignment."
The Notion of Vitalism
Did you know that chiropractic is based on vitalism? You may be wondering what that is. It's the understanding that all organic systems in the universe are conscious, self-developing, self-maintaining, and self-healing. In simple terms, it means that the body is more than the sum of its parts.
It is infused with a specific intelligence. This intelligence guides its development, interactions with its environment on all levels and responds to challenges that the environment produces. The concept of vitalism is foundational to the entire idea of health and wellness in people.
Our bodies work hard to convey and maintain health. They also work to recover from illness and other conditions that threaten health. The systems of the body function optimally when they are free of interference. The nervous system is the master control system. It is responsible for coordinating the internal and external dialogue of the body necessary for life.
Types of Interference
Interference results from three connected aspects of stress: physical stress, emotional stress, and chemical stress. These facets of stress cause asymmetrical muscle tension to develop in the spinal column. This tension causes spinal bones (vertebrae) to misalign. These misalignments (subluxations) irritate nearby spinal nerves.
The irritation may result in pain and affect the function of the organ systems the nerves regulate. Chiropractic adjustments decrease nervous system interference and improve the integrity of the nervous system.
My goal with every patient is to locate and correct the subluxation causing interference."
Book an Appointment
Discover the difference chiropractic care could make in your life. Contact us today to schedule an appointment with Dr. David!
---
Dr. David Fonke | (910) 484-5999